So, wieder ne Woche rum. Hab ich all das geschafft was ich wollte (wie z.B. endlich den Header für den Blog machen)? Ne, nicht im entferntesten, aber ist ja auch kein Wunder bei so vielen tollen Blogs auf denen man vorbeischauen muss. Also, was solltet ihr euch unbedingt anschauen?
Another week is over. Have I gotten around to do all the things that I wanted to (like finally finishing the header for the blog)? No, not all. Well, that's no surprise as I had to check out so many wonderful blogs... So, which posts should you have a look at?
Serien, Wettbewerbe und sew-alongs - Series, competitions and sew-alongs
Dies war die letzte Woche
Project Run and Play
und somit drehte sich alles um "signature style". Wie immer haben die
Designer
tolle Sachen fabriziert, aber auch im sew along gab's viel für's Auge. Am besten hat mir diese
Blouse
gefallen. Das Schnittmuster dafür gibts bei
Compagnie M.
und das landet sicher irgendwann in meinem Warenkorb. Übrigens dort gibt's auch einige kostenlose Schnitte.
This was the last week of Project Run and Play: Signature Style Week. The designers were great as always and the sew along didn't disappoint either. My favorite is this blouse. You can get the pattern at Compagnie M. I'll most probably "have" to buy it some day. Also: Check out the free pattern at Compagnie M.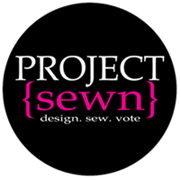 Außerdem läuft die erste Woche Project Sewn. Thema ist das, was anscheinend jede Frau braucht:
Das kleine Schwarze
. Schaut euch an welche Wahnsinnskleider die Mädels gezaubert haben.
It's the first week of Project Sewn. The "little black dress" challenge. You simply have to see the great dresses that the designers have sewn.
Katy von no big dill näht sich Woche für Woche durch das Alphabet, diese Woche war der
Buchstabe E
dran. Es gibt immer eine link party, falls ihr Lust habt mit zu nähen. Ich werd in den kommenden Wochen sicher das eine oder andere Projekt verlinken.
Katy (no big dill) sews trough the alphabet. This week she did "E for elegant and easily ruffled". There's a linky party each week. So, join the fun, I sure will...
Das
geheime Eichhörnchen
ist wieder
aufgetaucht
(V.a. der kleine Hai ist so toll)! Ihr wisst nicht was das ist? Tja, dann schaut sofort nach, denn the "secret squirrel" ist eine der besten und kreativsten Serien/Wettbewerbe in der schönen weiten Näh-Blog-Welt.
The
secret squirrel
has made its
appearence
again (I especially love the little shark). What, you don't know what this is? Then go follow the link right now. You're about to find one of the best and most creative series/competitions in sewing blogland.
Tips und/and Tutorials
* Bei Oliver and S. wird erklärt wie man einen
Hosenschlitz mit Reißverschluss
näht.